Suspended Wood Ceiling: Dress up your ceilings with French Design
We design and manufacture suspended wood ceilings and wall coverings for architects, designers, craftsmen, and other interior design professionals. We dedicate our expertise to developing linear and perforated wood panels that adorn your spaces and enhance the acoustics of all your projects.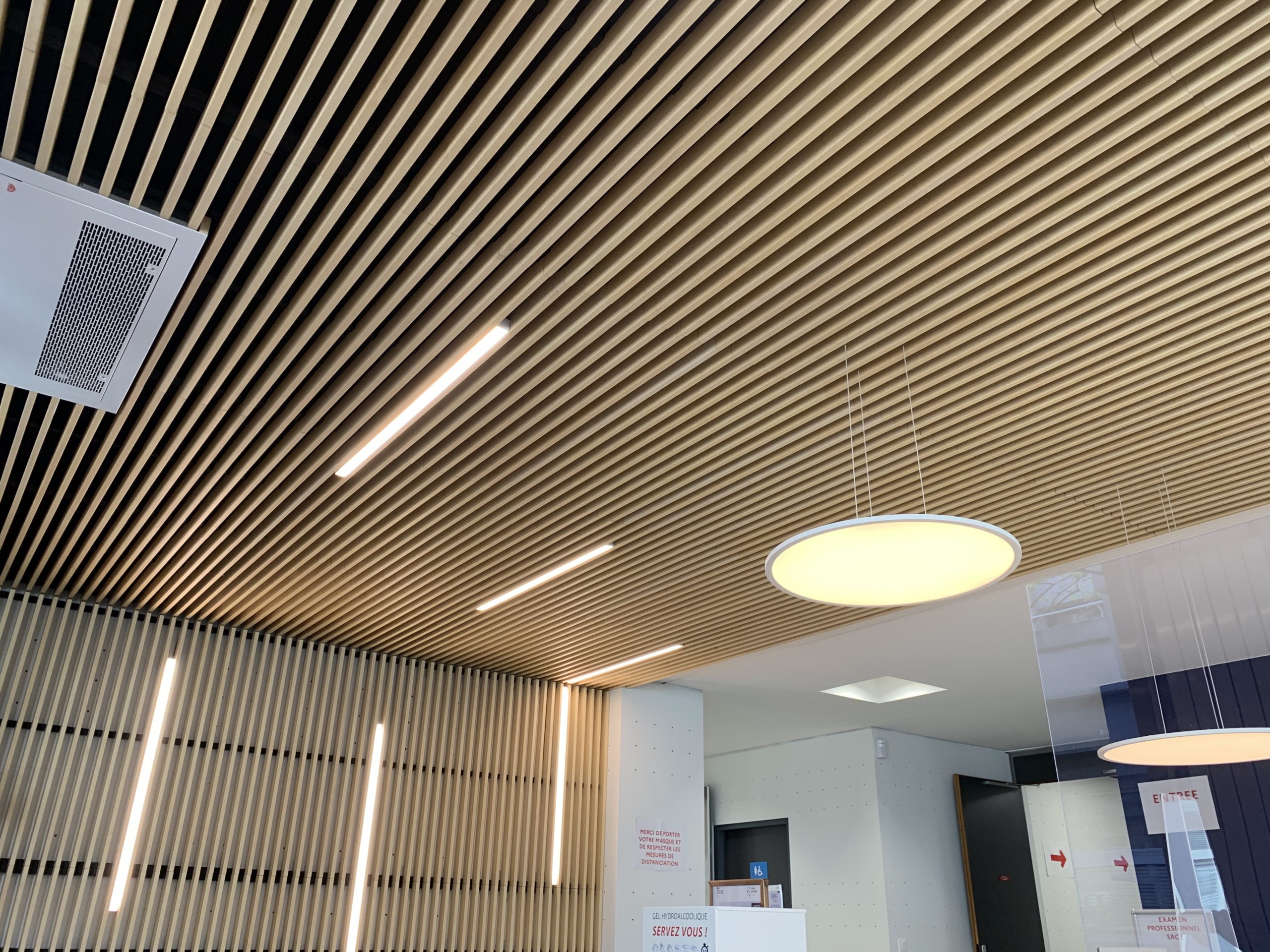 Easy-slide system
The patented Easyslide fixing allows for easy and quick installation of Ecogrid ceiling tiles. Discover how to save time and increase efficiency on all your wooden ceiling installations.
Quick and
easy-to-assemble
wooden ceilings
Ecogrid, linear and depth
Ecogrid wooden ceiling tiles come in various designs. Choose your wooden slat sections, spacing, and colors: the choice is yours.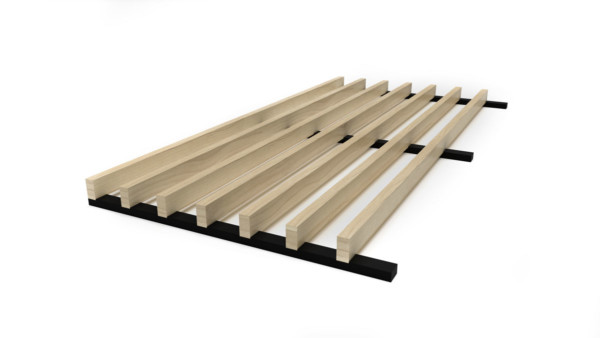 Made in France
Our products are manufactured in France, in Saint Hilaire de Clisson (44)
custom-made
Our design department is at your service to address your specific requests: Wood species, dimensions, fixings, etc...
The wood in the veins
Ardemo uses wood species sourced from sustainably managed forests
Our expertise in wooden ceiling to manage all your projects all over the world
Ardemo, the specialist in wooden ceilings, has been innovating for several years, creating wooden ceilings for businesses, schools, and public institutions. Choosing Ardemo means opting for top-of-the-line French production. We use sustainably sourced wood species from responsibly managed forests. Teamwork and collaboration with our clients are our main sources of inspiration and innovation.
We offer a range of products tailored to all needs and building types, including suspended, perforated, modern, and design wooden ceilings and wall coverings. Ceilings and wall claddings are just as important as the interior design in defining the atmosphere of a space.
Wood is a natural, modern, and traditional raw material that creates a warm ambiance. It's the ideal covering for your ceilings and walls.
From the birth of an idea to its final realization, our design team accompanies you in all your projects.
Wooden Ceiling Tiles
Our Artgrid wooden ceiling tiles are perfect for dressing up your suspended wooden false ceilings. By playing with the overlapping of shapes, you can create unique and stylish environments.
Versatile and highly aesthetic, false wooden ceilings are used in offices, shops, and various public and communal buildings. They are also a key element in the energy performance of a building. Our tiles allow you to provide a high level of comfort (temperature, lighting, etc.) with lower energy consumption.
Wooden Ceiling Slats
Our Ecogrid wooden ceiling slats come in various models to match all construction desires and needs. They are fully customizable; choose your wooden slat sections, spacing, and colors.
Installing a decorative false ceiling with solid wood slats can radically transform the aesthetics of a room. Wood is a warm material, and the arrangement of the slats conveys a sense of order and serenity. With these slats, you can easily highlight a space without even altering its original decor.
Why opt for a wooden false ceiling?
Considering a wooden false ceiling? Discover its numerous advantages:
Acoustic absorption: The suspended wooden false ceiling offers various acoustic benefits. You can easily complement it with sound-absorbing panels to discreetly and effectively reduce sound reverberation in a space.
Design: What better material than noble wood to conceal technical elements in the plenum (cables, air conditioning…)?
Easy-slide system: Our patented Easy-slide fixing allows for easy and quick installation of Ecogrid ceiling tiles. Find out how to save time and increase efficiency on all your wooden ceiling installations.
Wide range of finishes: Ardemo wooden false ceilings are entirely customizable according to your desires and needs. Our design team accompanies you to offer multiple possibilities and combinations of natural wood finishes.
Fire and moisture resistance, impact stability: Our false ceilings are designed to provide maximum resistance for any usage. Depending on the requirements of each project, they can be made with materials that offer better fire and moisture resistance.
Energy efficiency: Did you know? Lowering the ceiling of a room reduces the volume of air to be heated.
Wooden Wall Cladding
Looking to create a warm ambiance with wooden wall cladding? Ardemo's wooden wall covering is the ideal solution for original, warm, and natural interior decoration.
Wall cladding allows you to create a unique and warm decoration. If you want to turn your walls into genuine works of art, trust our team of professionals. Wood can enhance any style of room, whether used in a total look or as subtle touches.
Made from French wood, our design team envisions and creates the project that suits you best.